University of Rwanda through the school of Nursing and Midwifery is in partnership with Karolinska Institutet. Therefore, Linneas –palme is funding this collaboration through Agreement for Exchange of Students and Teachers (AESTA). This grant has enabled 2 faculty from KI to have 3 weeks visit at SONM in May 2018. Thereafter the SONM has sent 2 bachelor nurse students for a period of 12 weeks (from 28 August to 25 November), then 2 faculty for a period of 3 weeks (11th September to 2nd October 2018)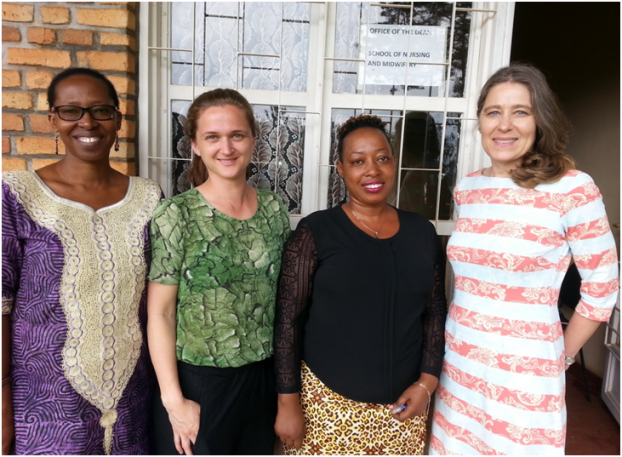 Dr.Donatilla Mukamana (Dean of SoNM), Mrs Marianna Moberg (Faculty at KI), Mrs Alice Muhayimana, (Coordinator of partnership at SoNM), Prof.Lena Wettergren(Faculty at KI)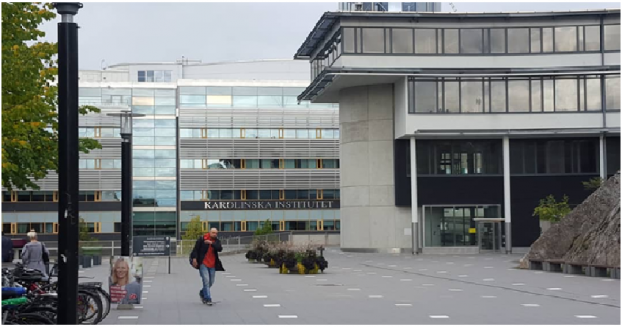 KI building
Karolinska Institute was founded in 1810 on the island of Kungsholmen on the west side of Stockholm ; the main campus was relocated decades later to Solna, just outside Stockholm. A second campus was established more recently in Flemingsberg, Huddinge, south of Stockholm. Karolinska Institute is consistently ranked among the top medical universities internationally in a number of ranking tables. It is one of Sweden's largest centres for training and research, accounting for 30% of the medical training and more than 40% of all academic medical and life science research conducted in Sweden.
1. EXCHANGE FOR WITH 2 RWANDAN FACULTY FROM SCHOOL OF NURSING AND MIDWIFERY
2 faculty from SoNM (Ingabire Leontine and Banamwana Gilbert) visited KI, During 3 weeks, (From 11th September to 2nd October 2018)
Togetherness (Marianna, Leontine, Coline, Samuel, Gilbert and Lena)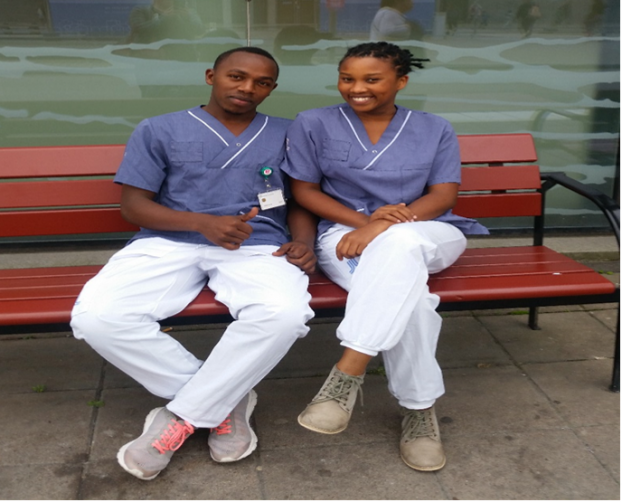 Samuel NZAYISENGA & Coline UWAMAHORO .Those are 2 undergraduates nurse students from SoNM visited KI for 12 weeks from 28 August 2018 until 25 November 2018.
The main objective for exchange program to Rwandan nurses students was to be exposed to international clinical experience and interact with other learners colleagues while for Faculty nurses was to exchange in teaching, assessing student and to be exposed to advanced technologies and culture.
Exchange activities
For the period of the teacher exchange program at KI, Faculty from SoNM have been involved in different teaching activities including teaching students in class, clinical teaching and evaluation, participation in workshop, seminar, research activities. Different methods such problem-based learning, round table discussion, lecturing, case study were used. The computerized teaching method was also used at KI for bridging the gap between theoretical knowledge and clinical skills before students practice to the real patients during clinical practicum.
Rwandan faculty were able to talk about the support of women affected by rape during the genocide against Tutsi in Rwandan context
Teacher exchange outcome
The teacher exchange program was a good time for experiential learning about different aspects of life. One Rwandan faculty said "First of all, I have integrated the concept of caring in my daily life to make others feel valuable, respected, and worthy of human dignity as we have experienced it elsewhere in Sweden. Apart from caring, the concept of humility and teamwork were also experientially learned at KI and we are moved to incorporate into teaching and learning system which will be likely to increase work performance and clinical patient outcomes". Second Rwandan faculty reported that it is hoped to shift the concept of clinical supervision to clinical instruction by assisting nursing students to maximize the expected clinical learning outcomes for enabling them to be professionally competent. In addition, different teaching methods deemed to be innovative and relevant will be integrated and sharpened to enhance nursing education. Finally, Rwandan faculty who have been participated in this exchange, believe to generate innovative ideas owing to this opportunity to travel in developed country in varied domains including education, research, treatment and technology.
2. EXCHANGE WITH 2 STUDENTS FROM SCHOOL OF NURSING AND MIDWIFERY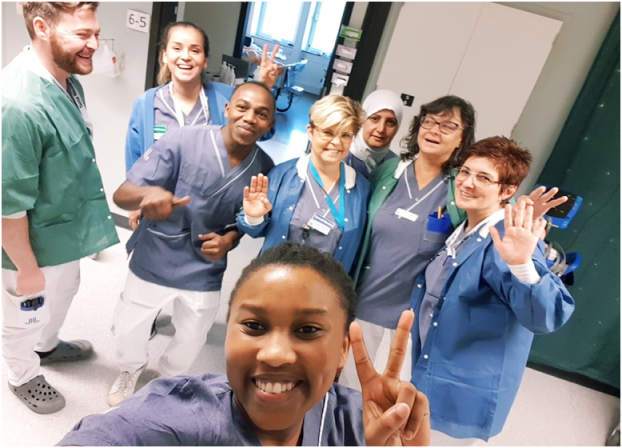 at Karolinska University Hospital
Rwandan students who visited KI have learnt a lot and have shared their experiences to faculty and students from Rwamagana campus. Many recommendations were raised such as having library at hospitals, encouraging nurses to have reading culture, creating places where play and communication is applicable for the pediatrics, clinical evaluation to be conducted by multidisciplinary team (supervisors, nurses and chief of the service), to allow students to set their objectives and know their gaps and weakness, to introduce the course that involve the literature review writings from first year up to last year. Improvement of nursing professional attitude was taken into consideration such as showing empathy during caring patients, team working, being honest and time management.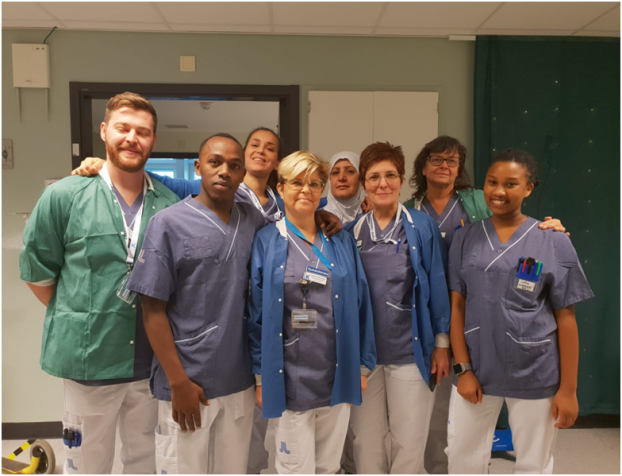 Briefly, at Rwandan student's side, the exchange period was very fantastic due a lot of gained experience. Rwandan students have experienced on patients holistic treatment, have also observed and participated in provision of medical and nursing care to the patients especially to the management of some neurological diseases that are rare in Rwanda like multiple sclerosis and amyotrophic lateral sclerosis.