Working definitions
Community is defined as "a group of people united by at least one common characteristic such geography, shared interests, values, experiences, or traditions. Community is also a feeling or sense of belonging, a relationship, a place, or an institution (CDC, 1997).
Outreach is an effort by individuals in an organization or group to connect their ideas or practices for the benefit of other organizations, groups, specific audiences or the general public. In addition to delivering services, outreach has an educational role, raising the awareness of existing services.
Community engagement is the process of working collaboratively with and through groups of people affiliated by geographic proximity, special interest, or similar situations to address issues affecting the well-being of those people (CDC, 1997)
Introduction | Justification
In 2011, the groundbreaking Frenk report described the need to train health care providers who can act as change agents for improvement while providing population-centered and contextualized care that will ensure the wellbeing of individuals, families, and communities (Frenk et al, 2011). The College of Medicine and Health Sciences of the University of Rwanda (UR-CMHS) strives to train health professionals who are not only dedicated to clinical and scientific excellence, but have also developed understanding, compassion and reflection that derives from direct exposure to the community they serve. Indeed, the UR-CMHS aims to train socially responsible health professionals sensitive to the needs of the population. To effectively take care of and empower the community they will serve, students have to be immersed into it and develop a deep understanding of the social, political and economic determinants of health that influence and shape community health needs.
In light of the above, the UR-CMHS suggested an initiative that will increase the degree and intensity of undergraduate student involvement in the community. The initiative is called integrated community outreach programme (ICOP). The ICOP will be a multidisciplinary community based and student-centered training programme designed on problem solving, critical thinking and teamwork instructional approaches. Developed from the experiences of existing initiatives in the college (eg. the Social and community medicine programme -iSOCO- from the School of Medicine and Pharmacy) and elsewhere (eg. the Community Based Education and Service programme -COBES from Nigeria, Kenya and Uganda), the ICOP will be fully part of the curricula in the college. It will be a cross-disciplinary learning programme that will allow students to live the experience and reflect on health-related issues in the community.
During the training, the students will be assigned to the communities with specific learning objectives. It will be an opportunity for them to learn from the community but also to give it their time, attention and service. Students will also get exposure to the organization and resources management of health services, including the financial and human resources. The community may be a village, a family, a health setting, peoples with a particular health needs (teenagers, old people…), a group of individuals at risk of or with a particular condition, etc.
Students from different disciplines, including nursing, midwifery, medicine, pharmacy, dentistry, allied health sciences and public health will learn to work together and to solve jointly and holistically community problems, with the community. Through community health projects, they will assess community needs and suggest responses that consider different aspects of health and social determinants of health, using skills and knowledge that they have acquired from their different disciplines. This will prepare them for their future joint work and give them the opportunity to contribute to building a healthy nation and better lives.
Mission
To train community accountable health professionals who understand and are responsive to the needs of the community by exposing them to its reality and engaging them in activities that promote health and enhance learning and service. Since the Rwandan population is predominantly rural (70.22 % in 2016) with a big portion living under poverty (39.1% in 2014), the ICOP will focus particularly on needy people in rural settings. This mission is well aligned with the vision of the CMHS to train graduates prepared and dedicated to building a more just and sustainable society.
Background
The CMHS has six schools, the School of Dentistry, the School of Medicine and Pharmacy, the School of Nursing and Midwifery, the School of Public Health and the School of Health Sciences. Current community outreach programmes in the CMHS are fragmented across these different schools and often lack community engagement and service-learning approaches that the ICOP intends to promote. In current community health activities, students are more observers than actors. For instance, the school of Medicine and pharmacy has the iSOCO (Social and community Medicine) training with a 2 to 4-week clerkship in the 4th year. During the iSOCO clerkship, students are sent in the community as observers and don't intervene in community health issues. While they gain some insight into community health issues, they may miss the deep understating, attitudes and abilities generated by close interaction with the community.
It should be noted that at UR-CMHS and other UR colleges, there are extra-curricular outreach initiatives organized by students' associations such as the Medical Students Association of Rwanda (MEDSAR) and the One Health Students Club (OHSC). There is a need to explore opportunities for collaboration between the ICOP and these students' outreach initiatives.
ICOP Core values, principles and philosophy

The following values and principles will guide ICOP activities. Taking them into account will ensure the effectiveness of the programme :
– Collaboration : ICOP activities, including students' projects will be carried out as part of a mutually beneficial partnership between students from different disciplines, faculty, staff and the community.
– Team work and interdisciplinary work : the ICOP will foster the spirit of teamwork between students from different disciplines, to prepare them to their future joint work, which is caring for patients and communities.
– Communication : To maintain a solid partnership build on trust and power balance, the ICOP staff will insure proper communication between students, partners and the community. Students will be prepared to effectively interact with all stakeholders with respect of the community's ethical standards.
– Accountability : the ICOP will aim to support student's community-based projects that address a real need as identified by the community and meet the needs of students. Students projects will be clearly defined and based on both community and student needs.
– Reciprocity : both students and the community should be acknowledged as equal partners in teaching and learning. Students will do more than work for the community : they will work with the community. They will need to balance community needs with their learning objectives.
– Student engagement : the ICOP will strive to support students in their development as responsible citizens and future leaders/cadres through meaningful service activities, education and personal development opportunities.
– Advocacy : the ICOP will prepare future health care providers to be community advocates and change agents by making them sensitive to community issues and giving them tools to advocate for the marginalized and voiceless people, and bring positive changes in lives of peoples they serve. Experiences from the ICOP will hopefully reinforce students need for continued volunteerism and advocacy when they start practicing.
– Critical thinking and problem solving : the ICOP will contribute to the development of students as health professionals through experiential learning that stimulates problem solving, critical thinking, and cultural understanding.
– Ethical decision making : the ICOP will train health care providers who will be able to take decisions that engenders trust, and thus indicates respect, responsibility, fairness and caring to individuals and communities.
The Community Engagement Center

The ICOP will be run from a Community engagement center (CEC). The CEC will provide accommodation and classrooms as well as other teaching and learning resources to students and their instructors. The center will serve as a hub for both students and instructors and will be designed to be a community-oriented training center for all CMHS students. UR Kabgayi campus has been suggested as a pilot site for the ICOP, and outreach activities will take place in surrounding region. The programme will eventually be extended to other sites and regions as it develops in term of activities, students and resources.
Toward an intersectoral ICOP

The possibility to involve other UR colleges and schools should be contemplated because health care issues often requires solutions that involves disciplines and expertise beyond the health sciences. This may promote effective interprofessional and intersectoral collaboration beyond the college boundaries and prepare students to work with professionals from other sectors including veterinary medicine, agriculture, information and communication technologies, journalism, civil engineering, etc. The Rwanda One Health Country Steering Committee has made it very clear : "No single individual, discipline, sector or ministry can pre-empt and solve complex "health" problems".
ICOP structure and core activities

ICOP will be a 4-week training programme that will be structured around 4 components (orientation and preparation, community needs assessment, intervention and service, reflection) defining the following activities :
– Before the training : Online orientation. This will preferably happen 2 to 3 weeks before the training. The online orientation will help students to prepare themselves for the training. They will sign up to the online course and get access to the preparatory material and other information about the programme (philosophy, objectives, content, teaching/learning strategies and assessments), its requirements and logistics issues.
– 1st week : Preparatory sessions. During this week students will review the main concepts and tools (see the next section) that will be used during the training. These are supposed to be already taught in separate modules in each school. During the first week, students will also understand the context in which they will navigate in at the system level and become familiar with the code of conduct during outreach.
– 2nd and 3rd week : Community-oriented projects in interdisciplinary groups. The activities will take place in the morning. The afternoon will be dedicated to presentation, reflection and discussion sessions. These afternoons sessions, particularly the reflection sessions will allow students to integrate the service and learning aspects of their experience, through critical thinking.
o 2nd week : Community needs assessment (community diagnosis). This is an essential step that will help to create a socio-demographic and health profile of a specific community. This will be done using methodologies like the rapid participatory appraisal (RPA). Community, placement, entry, integration and diagnosis will be facilitated by ICOP staff. Students, in collaborative workgroups will identify the health needs in the communities where they are deployed. Community needs will be identified through qualitative data generated from observations, interviews and discussions with stakeholders (health care providers, patients and other community members and partners) as well as through existing quantitative data (from health settings, surveys, censuses and other national data). The aim is to identify and understand community health needs, barriers to care, gaps in services, available resources and potential interventions, as perceived by the community. During this week, students will also build relationships with the community before any intervention or service.
The last days of the week will be dedicated to preparation and presentation of the intervention and service proposals.
Proposals must be based on community needs and student learning goals, and must be validated by instructors. Proposed interventions and services should target the needy and the marginalized, with a focus on health promotion, disease prevention and community empowerment (eg. through activities that enhance health literacy). Furthermore, the suggested ideas should be classified into three categories : short-, medium- and long-term interventions. During the third week, students will focus solely on short-term interventions that are achievable during the period of their training. Medium- and long-term interventions, including advocacy strategies, will be documented by the ICOP staff and the most pertinent should be recommended to relevant stakeholders. Short-term advocacy activities that can be carried out as part of their training should be done by students.
o 3rd week : Students intervention and service. The intervention and service whose proposal was designed in the second week are carried out. The proposed idea should be realistic, feasible, shared with the community and implemented with its agreement and participation. Students should explain the relevance and benefits of their initiative and involve the community in the decision at all phases of the intervention. Doing so will help to build mutual understanding and collaboration and helps to leverage collective wisdom, effort and support from the community. Interventions will target diverse health related issues, depending on the community needs that have been isolated during the previous step. For instance, a group of students may focus at promotion activities tailored to the needs of the community. This may include NCD screenings activities (eg. BP check) and health education activities (eg. teaching about dental hygiene, nutrition and sanitation, lifestyle and HTA, advises on HIV testing and condom protection, etc). Other students may decide to help nurses or community health workers in their service depending on the needs (eg. help with immunizations, family planning activities, antenatal care, distribution of mosquito nets for protection against malaria, etc). Other students may join the community in the Umuganda (public service) and make it an opportunity to give interactive teaching sessions about health issues relevant to the community.
– 4th week : Student reports and assessment. Students will get time to prepare and present the report of their interventions. The presentation of the report will be evaluated by instructors.
Students are sent in the community to interact with people. They are the mirror of the University of Rwanda and should reflect its values. Therefore, they must be appropriately prepared, knowledgeable, and adequately supervised. Teaching, supervision and mentorship will be provided by staff from different CMHS schools that are involved in the programme, as well as partners and tutors at different outreach sites.
Style of learning will be participatory with students setting learning objectives with teachers ; focus will be on co-learning, co-creation, PBL and similar approaches. ICOP can become a place to showcase PBL in action for other Colleges. Furthermore, there will be an emphasis on collecting data so that this can be written up. Also, there is a need to think beyond usual equipment list e.g. film-making material for recording what is done and for students to make outreach messages. We can think about possibilities of involving multi-media group at school of journalism at Huye and Radio Salus.
Students will use logbooks indicating the activity they have undertaken. As the ICOP is part of the curriculum it will results in academic credits. Students will be assessed through their community-oriented project (intervention and service) report and presentation, as well as through continuous assessments by supervisors as per the university regulations.
NB : Depending on the needs and resources, the programme can evolve and become a longitudinal inter-annual programme from the beginning to the end of the student's training. It should also be noted that foreign students on electives may be accepted into the ICOP programme, under certain conditions to be fixed by the college.
ICOP will organize seminars for policy makers and providers on quality care – showcase some sessions, and have a regular 'quality training-quality care' series.
Main concepts and tools needed during ICOP
These are general theoretical notions that students should have already learned before the outreach, as well as the skills and tools they will need during the outreach :
– Health system
– Community health care
– Primary Health Care (PHC)
– Community Oriented Primary Care (COPC)
– Community needs assessment
– Disease prevention and health promotion
– Critical thinking
– Communication skills
– Quality improvement
– Advocacy
– Teamwork
– SWOT analysis
– Project development
– Teaching and mentorship skills
– Community oriented research methods
– Ethical decision making
– Professionalism
– Significant event analysis – confidential inquiry techniques
– Reflective practice
Work plan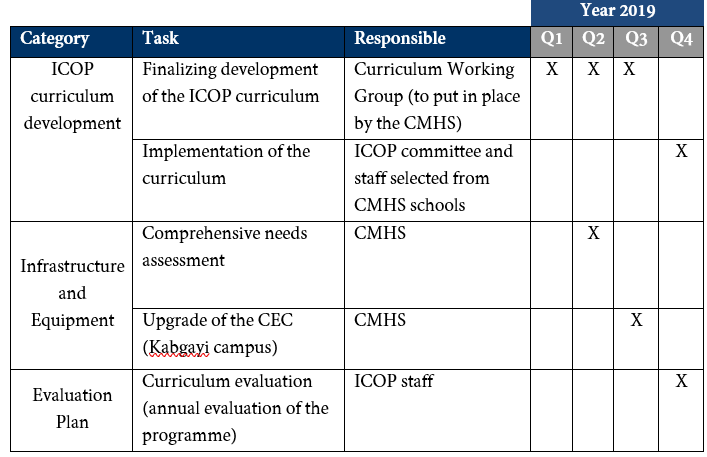 Detailed curriculum
A detailed curriculum will be developed by the curriculum working group. The curriculum will include details on the year of the training for each discipline/school, allocation of study and teaching hours, a brief description of the aims and content, the learning outcomes, the indicative content, the learning and teaching strategy, the assessment strategy and pattern, strategy for feedback and student support, a list of the indicative resources and the teaching team.
Budget
A detailed budget will be calculated once all the details of the curriculum and the various activities are known as well as the details concerning the needed infrastructures and equipment. The budget will include expenses related to the training of students and other healthcare and academic personnel involved in the ICOP, transportation for students, ICOP-related administrative costs. Funding sources should be determined.
Outputs
1. Publication : Student volunteerism in Rwanda ; a twenty-year retrospective
2. Publication : The establishment of a multi-disciplinary module
3. Preparing for a specific prize
4. Accessing networks of similar initiatives and linking to organizations and medical schools doing similar work
References and useful resources (links to)
1. https://communityoutreach.uconn.edu/about/#
2. https://www.urmc.rochester.edu/education/md/admissions/community-outreach.aspx
3. https://www.mcw.edu/education/medical-school/discovery-curriculum/the-scholarly-pathways/community-engagement
4. https://www.thelancet.com/article/S0140-6736(10)61854-5/fulltext
5. https://www.ajol.info/index.php/rj/article/download/123977/113497
6. https://www.tandfonline.com/doi/abs/10.1080/14739879.2015.1079969
7. https://cmhs.ur.ac.rw/?q=node/305
8. http://www.rbc.gov.rw/IMG/pdf/one_health.pdf
9. https://www.hhs.gov/ash/oah/sites/default/files/community-engagement-508.pdf
10. https://www.uvm.edu/sites/default/files/community_engagement_handout.pdf
11. https://ohscur.wordpress.com
12. https://www.ncbi.nlm.nih.gov/pubmed/21182375