Since 2011, September 26 is observed annually as World Environmental Health Day across the globe. It was established that year by the International Federation of Environmental Health (IFEH), a body of 44 member states, with a goal to raise awareness regarding the health of our environment. It is in that aspect that staff and students from the School of Public Health, Department of Environment Health, UR-CMHS joined the public and campus community at Remera campus in raising awareness on environmental health.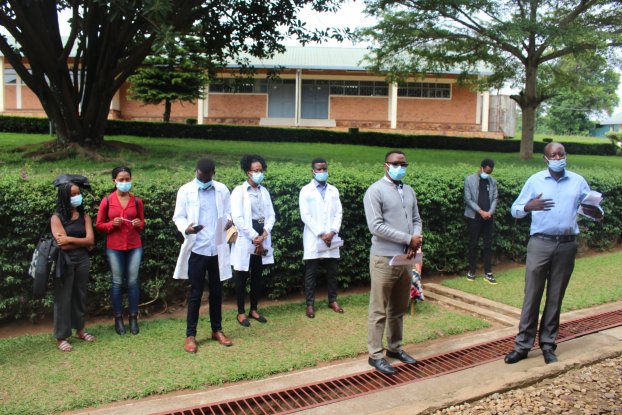 Every year, the occasion is marked under a special theme, with that for the current edition being "Prioritizing environmental health for healthier communities in the global recovery." The "global recovery" here refers to that from the ongoing pandemic of the coronavirus disease (Covid-19). The theme is based on the "Manifesto for a healthy recovery from Covid-19" which was released by the World Health Organization and which, according to IFEH, is based on six key ideas.
As always, various events took place across the world in connection with the occasion, with the environmental body urging national governments to hold programmes to mark the day. The central theme behind the celebrations is to determine and minimise factors that contribute to the deterioration of environmental health.
Environmental health aims at :
Identifying and evaluating environmental sources and hazardous agents.
Limiting exposures to hazardous physical, chemical and biological agents in air, water, soil, food and other environmental settings that may adversely affect human health.
Environmental health is the branch of public health that focuses on the health interrelationships between people and their environments. It promotes human health and well-being by fostering a safe and healthful environment, both built and natural. The discipline often includes work in areas such as climate change mitigation, hazardous materials management, land use planning, radiological health, food safety, toxic chemical exposure, recreational water illness prevention, safe drinking water, and more. Environmental health professionals often work as epidemiologists, toxicologists, sanitarians, industrial hygienists, and as subject matter specialists.
World Environmental is celebrated every year to not only raise awareness of the profession and the health threats that need to be addressed, but as an opportunity for organizations around the globe to band together and host events that encourage environmental health literacy.